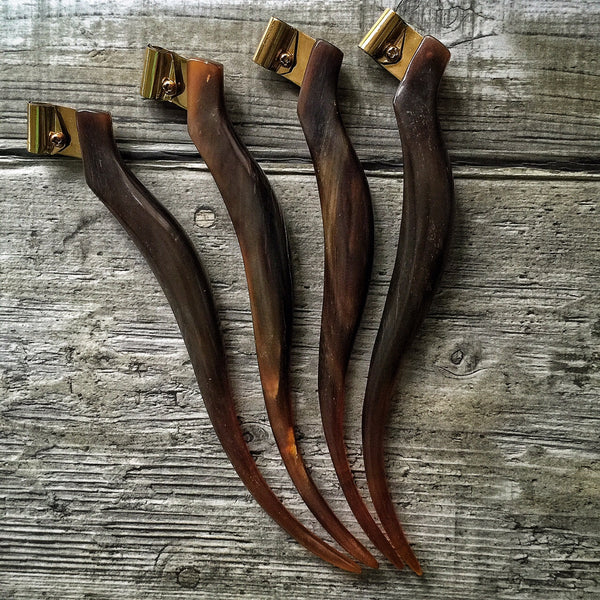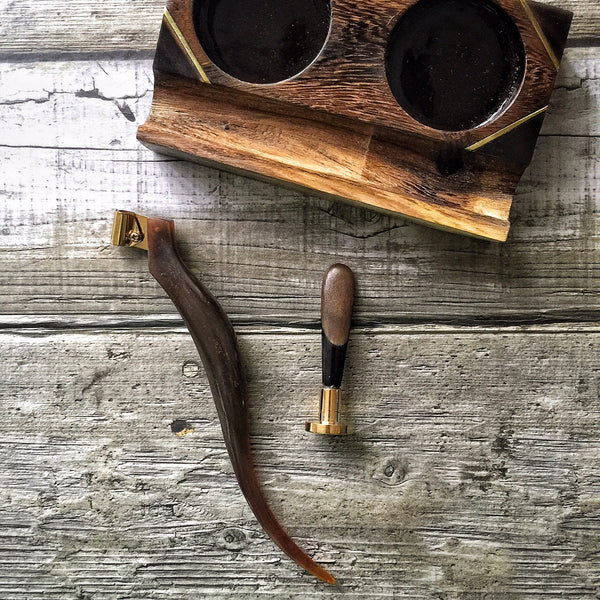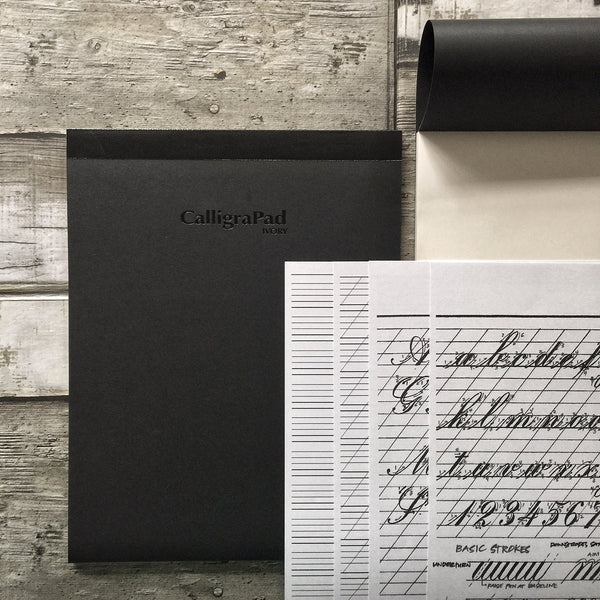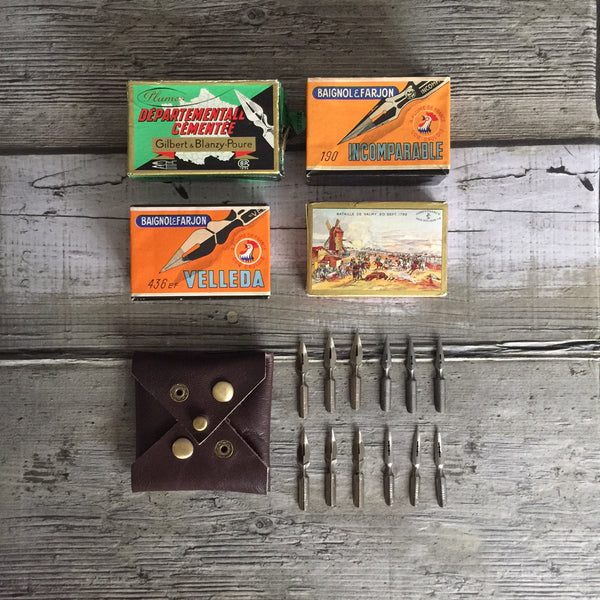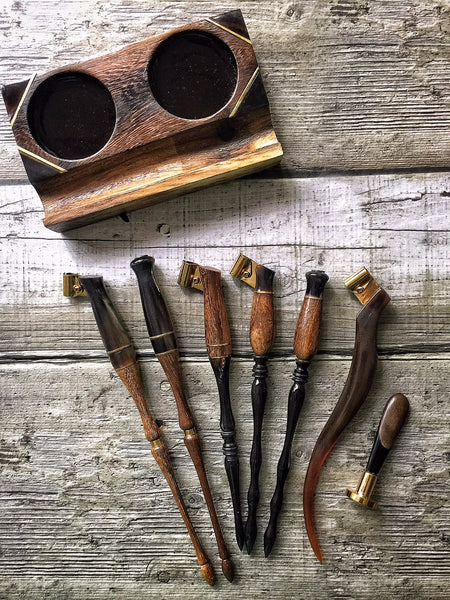 Tamaraw (golden brown)
Tamaraw is an ergonomic holder made from Philippine Buffalo Horn fitted with brass bullock adjustable flange.
Brass adjustable bullock flange

Approximately 6 inches long and weighs 18 grams 

The Curious Foot - more details at the Blog
Ergonomic grip
Widest part of the body is 4.5/8 inches 
Bullock flange can fit all types of nibs.  Use a small phillips screwdriver to adjust the flange.

Comes in a handmade wood box made from

Robles

(Philippine Oak) wood.

The material comes from domestic Philippine buffalo horn that are highly valued and are not dispatched only for their bones or horns.  Each horn is one-of-a-kind, with color and shape as unique as a fingerprint!   The variations in their shapes and colors can only be made by nature; thus a horn may have natural blemishes and skewing which will not affect its functionality but does verify its authenticity.  
Php7,000 or USD175.00
Purchase together with CalligraPad and save Php100 or USD2.50
CalligraPad - 80 sheets of 8.5" x 11" ivory smooth and bleed-proof paper perfect for dip pen calligraphy; padded for easy and smooth tearing.  

Comes with @the_md_writes Copperplate exemplar and guide sheets
Click here for the product info
Php7,200 or USD180.00
Purchase together with Vintage Nibs Set and save Php200 or USD5.00
Set of 12 assorted Vintage Nibs
Php7,500 or USD187.50
Purchase together with Curiosity Vintage Nibs Set and CalligraPad and save Php400 or USD10.00
I named this holder Tamaraw as a tribute to this rare and critically-endangered species that is only found in the Philippines. Also known as a dwarf buffalo, the Tamaraw is recognizable by  its short and V-shaped horns and often mistaken for a carabao because of their similarities.  Numerous government and non-government programs have been launched to ensure the survival  of the Tamaraws for future generations and preserve the biological heritage for all Filipinos.
This ergonomic holder allows the writer to gain full control of the pen by assisting your fingers to the points where it can gain control at the same time comfort - side of the middle finger resting comfortably on the right corner, thumb on the left curve and forefinger on top, close to the flange and the tip of the point.   It literally feels like an extension of your hand.